Most of the the time I go my merry way restoring hats or making new crafty creations. But once in a while someone else's ideas catch my interest. Rachel-Marie's quest for a "pillowcase drawstring" bag to use to carry Yarns for Sale drew me to the project like a bee heading for a flower.
Rachel-Marie is and Indie Artist -- an Independent fiber artist selling her wares at markets, shows and online at etsy
Knitty Dirty Girl Store
She also shares about her work on Craftster.org Have enjoyed seeing her hand spun yarns, felted beads/balls, weave-it squares, and much more at both sites.
When Rachel-Marie posted about wanting someone to create a huge billboard bag with felt appliqué lettering so she could tote & promote her goods in high indie style, my first thought was- "Needle punch her fab yarn into the letters." Second was - "the bag sounds like a pioneer backpack, hmm could that style be adapted to work for her." Well... sent a convo (personal message on Etsy) sharing these ideas.... OH OH we were both lost in scheming and dreaming on how to make the concept functional and beautiful. Thus the collaboration began.
**note: Pioneer backpacks were burlap bags make into back packs by tying rope around the top and bringing one end of the rope to each bottom corner - a pinecone was hiddin in each inside corner of the bag bottom, the free end of the rope was wrapped around the corner above the pinecone, and viola the rope would not slip off the corner. A very basic tote.
For the Rachel-Marie backpack instead of pinecones, gromets were placed in each corner and a drawsting casing at the top. The bag is made of silk burlap. underlined with tencel. It has recycled hay bale twine for straps. Shoulder pads and a wallet-waist wrap were added for carry comfort. And the applique was done partially in felt with the main word YARN in Rachel-Marie's own hand spun yarn.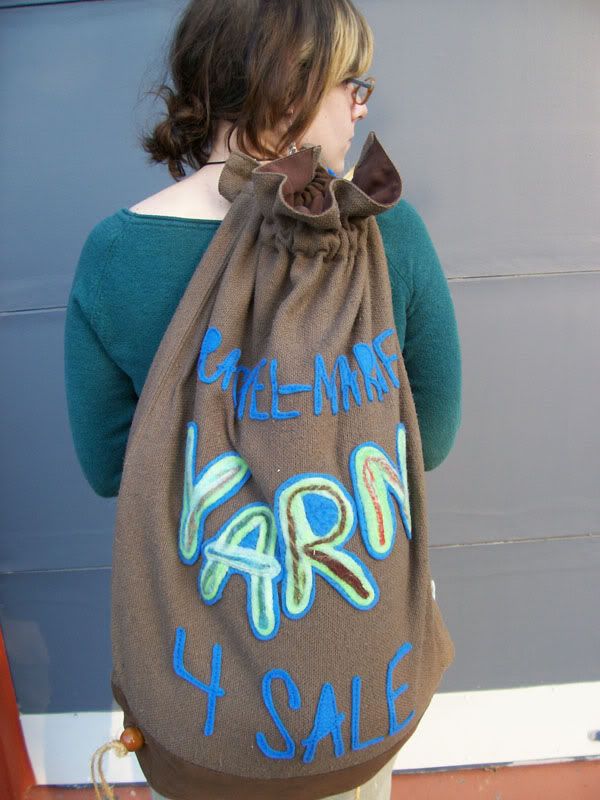 Here is Rachel-Marie.
She reports the bag is working well, she has been using it to tote packages to the post office and will be using it at the
Art*Star Craft Bazaar
on June 3 & 4, 2006 Kudos to Rachel-Marie for being juried into this prestegious show.
I was so excited to complete this backpack for Rachel-Marie. Have done my best to capture her indie spirit by providing a bright beautiful cutting edge tote. The tote is all at once simple and complex; all at once old and new, all at once rustic and elegant.